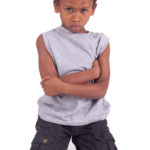 The most effective way to influence behaviour is through encouragement.  To clarify, however, encouragement is not about being permissive or letting children "get away" with things.
Sometimes encouragement has to come in the form of being firm with children.  Children need structure and they need limits. Without them, they flounder.
One of the foundational concepts of Positive Discipline is kindness AND firmness at the same time.  We often need to be firm with children but we can always be kind.  The kindness part of the equation is often the part that many adults leave out!
Adults want respect but they often forget to give it.  It's a bit like co-operation.  Adults say they want cooperation from children but forget that the "co" in cooperation means "together".  In reality, it takes more than one person for cooperation to actually happen and cooperation is generally a result of a mutually respectful relationship. 
It's a good time to mention that even if kids are not being respectful towards us, we must remain respectful to them.  Hard, I know – talk about self regulation!! But it's a brain thing (mirror neurons) and we must model what we want in return from children in order to invite a respectful response. Plus kids learn respect through modelling!
Showing respect for children, their needs and their perspective is one of the most encouraging things we can do for them.  We show respect for children when we "really" listen to them.  We don't have to agree, but they often have a different perspective we've never thought of.
One more way to "encourage" children to more positive behaviour. 
Next post –  Practicing "Power With Children" vs. Power Over Children.